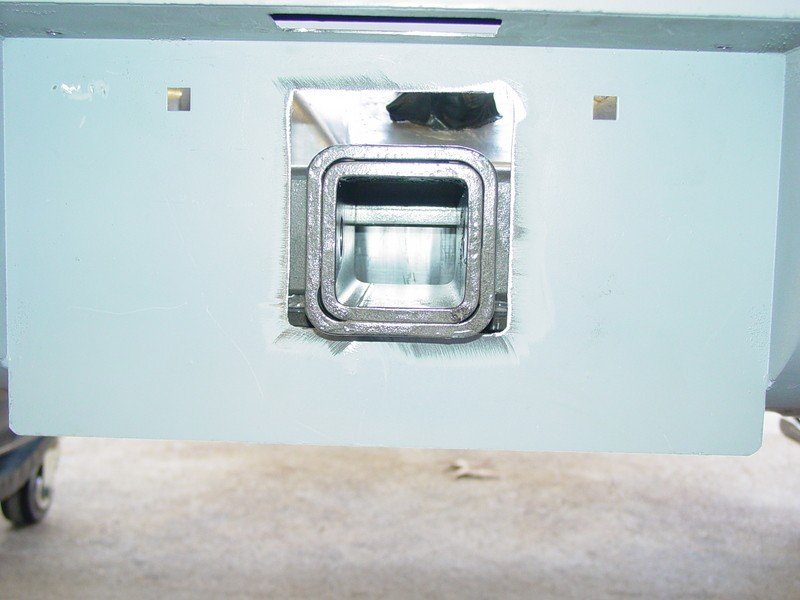 I need to dress the hole up a little but it works. My dremel tool is on loan right now. After final paint the tag will be mounted on this frame... It will flip up and the draw bar can be slid into the tube. It will take a little effort to get the pin in and clipped and the safety chains attached... but no more than I will use it, I can deal with that.

That's about it for the install. In retrospect I'd have come out cheaper to go to a u-pull-it yard and find a hitch that was long enough and fab from there instead of buying a hitch on the market. But, I'm pleased with what I have. It's certainly well made unit and thinking about it a little more, finding a hitch with a short enough tube might have taken a while laying under old vans and such.



Boilerplate denial of liability statement… i.e. the fine print
This device is something I came up with to prevent me from spending too many dollars on a commercial patented device, although that part of the plan didn't work. It is not patented, engineered or even perfect… it is what it is, a home made contraption. I'm sure there are alternatives to this design some even better/cheaper/easier, I just didn't think of them or warrant them necessary... there are several similar units on the internet waiting behind Google for you to see/copy/build…(just like I did) This work was done by me and for me or by friends who were nice enough to help me out. I only ask that if you reproduce it give me credit for it and if you make money from it… give me my percentage.
Since I have no way of knowing your level of competence, welding or cutting skills, mechanical ability or estimated intelligence, there are no guaranties or warranties either verbal, written or implied with this article. Along with this article I am giving you absolutely free of charge…that's right ! FREE !!...the liability, total and complete liability for the use or misuse of this contraption will be yours and yours alone.
It belongs to you and keep that in mind… I am in no way responsible for any damage, injury or embarrassment you may suffer from the use of this homemade device. If it doesn't look like something you'd be comfortable using… don't build/use it. If you're not intelligent enough to make that decision about your comfort level… ask a family member or friend.. but here's a hint… if you have to ask someone… don't build it !
Pictures were made at different stages of construction and all assemblies in pictures may not be complete in each shot. I.e.. a picture showing 'some parts' only means that it was not finished, but I've tried to make the idea complete to the best of my ability. If you have questions or see mistakes or problems, let me know by e-mail and I'll make the corrections if possible..
Use these ideas at your own risk. Modify them at your discretion and to suit your purpose. Your mileage may vary, batteries not included, much assembly required... wait one hour after building to enter the water, additional charges may apply. not all applicants will qualify for advertised A.P.R., for ages 10 to adult…side effects are comparable to placebos. Do not take drugs when building or operating machinery. JUST SAY NO.
Copyright . 2012 John Niolon, All International Rights Reserved. This document may not be copied or published without prior written consent of the author- jniolon@att.net